With this new Aqualink T1 you will be able to:
Normal / Gyre / Mix / Reef / Nature / Crossflow + / Clockwise 7 type of Flow Rate
OverClock Mode on your skimmer
Schedule feed time between 1 min. to 999 mins.
Have a more natural Night mode, without the need of a sensor. With Night mode on, it will NOT sudden drop the flow rate to half, it will be based on your setting and it will take 1 min to drop down the flow rate.
Possible continuous schedule function

It can work together with your battery backup : if your electricity is down, it will automaticly start your battery backup.
Compatibilité:
Jebao pompes DCS/DCT et Crossflow Pumps

Jebao WP10 / WP25/ WP40 / WP60
Jebao RW4 / RW8 / RW15 /RW20
Jebao FS8000 / FS14000
Jebao PP4 / PP8 / PP15 /PP20
coral box QP-5 / QP-9 / QP-16
Aqua-link Controller

Jebao DC Controller

Mode

Normal / Nature / Reef Plus / Gyre / Mix / Wave Box

Normal

Night Mode

Can Set scheduler time to set night mode(1 to 100%). NO Electrical or Lighting affection

Customer can set their own night outflow.

Genius Night mode will not sudden drop the flow when reach on night time, it will auto 60second to count down to slow the flow or wake up 60 second to avoid scray of fish

No this Function

Feed Mode

2 Feed Mode Function: Physical Feed mode button + 1mins to 999mins feed time. Schedule time Feed Time Function

10 Mins Feed Time

Flow Rate

1 to 120% Output (Digital Setting from 1 to 120%, more Accuacy)

10 Speed Mode(Test 65% to 100%) Physical Button, cannot adjustable lower or accuacy flow rate

Stable & Silent

Stable IC chips to control, Protection of the pump without sudden damage, make the cirucult more accuacy and stable, for skimmer operation will more accuacy with same water level. Silent Function of controller will drop more 10% sound compare with orginial controller

No this function

OverClock

Max can overclock to 120% (Depends on the machine physical element)

No

WiFi

Yes . Mobile for Andriod / IOS, continous upgrade for future

No

Timer

Timer can set as On/ Off(0%), to make the pump as timer function. Like continous mode / healthy mode (see detail of the website photo) . Same like Apex controller function

No

Custom

User can set on the pump operation on which mode during schedule time

No

Control Pump

Max can control 3 Pump (A B C), idea to create with schedule time to generation mix different flow

Max 2 Pump only on the same time

Cleaing Function

Reserve Impeller to reduce Sand / Stone on your return Pump

Yes
Battery Backup
The Aqua-link WiFi controller which can work together with Battery Mode for CoralBox Battery for Jebao. If for your electricity is down, it will auto work with our Battery together(Need to buy and operation half output for emergency mode)
Want Different Mode of WaveMaker / DC Pump?
Normal / Gyre / Mix / Reef / Nature / Crossflow + / Clockwise 7 type of Flow Rate
OverClock Mode on your skimmer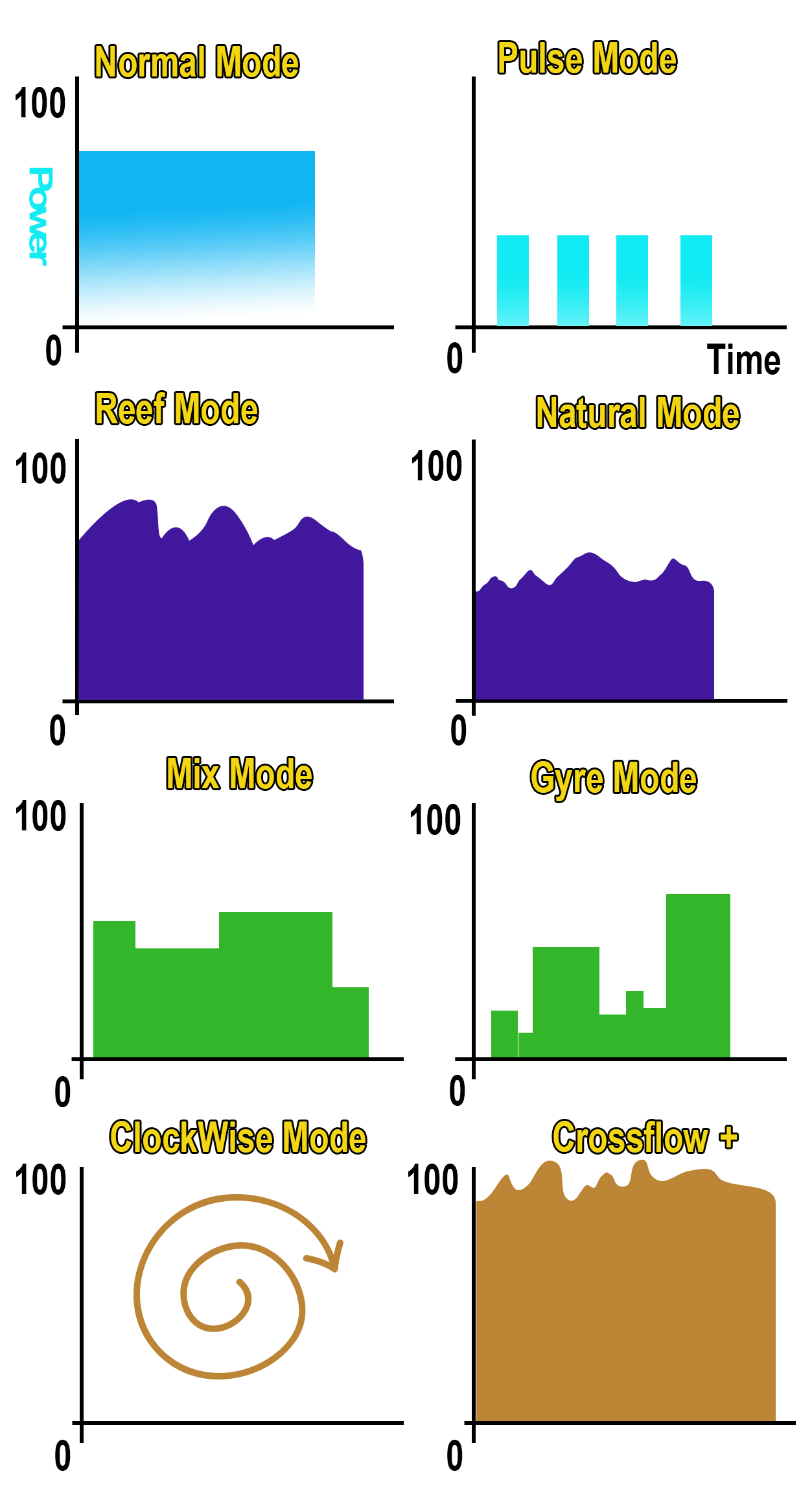 Continuous Function Under Schedule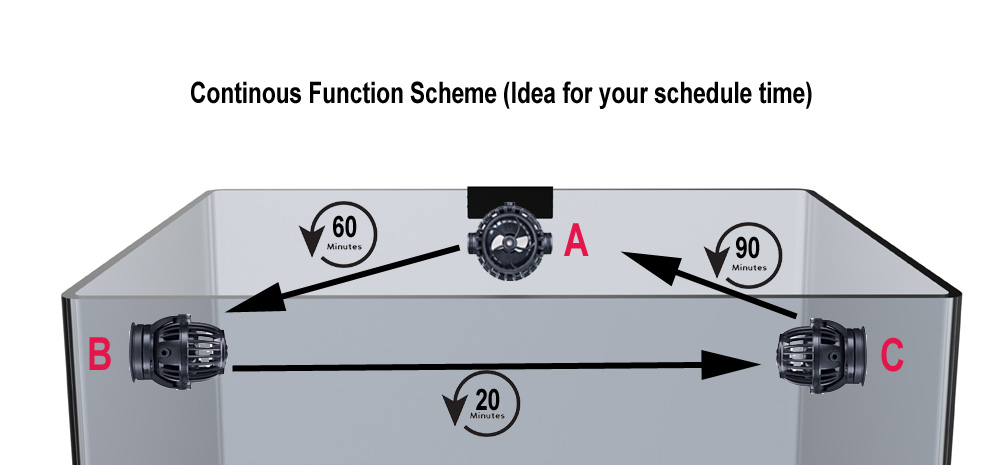 For the Scheduler , Each Pump have 24 Timer to set on the working Time
Example you can set for the Pump A Work for 60Mins and OFF
And then Pump B Work for 20Mins and OFF
And then Pump C Work for 90 Mins and back to Pump A
Loops on it. Each Pump have 24 time to setup, If you have 3 Unit of the Pump, that mean you can set for 24time x 3 = 72 times a Day
Our health mode
can make the the Pump Loop On / Off for every 60mins +
Example Fish require a rest time for recover in night. Or Some illness fish state on some rock / sand for recovery
If Off one of the Pump, it can keep for the fish alive again, the customer preset Off time
Pump A operation 60 Mins, and B stop for 20min and then Pump A start Again to Loop